This was a really fun kiosk concept I created in order to spread awareness about a popular Thai holiday tradition. Songkran is an annual water festival where people take to the streets with water guns and buckets of water and basically have a giant water fight. The kiosk itself is a large white elephant (considered to be sacred) that people can interact with by pressing on certain areas that will cause the trunk to shoot water in various directions (see diagram above). Guests can also learn about the holiday and how to interact with the kiosk from an interactive screen located at the front. There would also be a vending machine that would sell water guns that guests can fill up using the water barrels placed around the kiosk (these would be connected to a water source). All proceeds from the kiosk would also go to the Save The Elephant Foundation as Thailand is making large efforts to keep these creatures safe and out of harms way with various elephant sanctuaries across the country. 
This project focused on the queue for a ride concept that I designed based on Wes Anderson's stop-motion film 'Isle of Dogs'. Elements designed included a master ride layout, a front marquee, possible stanchion designs for the exterior and interior queue, ride vehicles, and exterior and interior story elements that would set the stage for the guests as they entered the ride. The concept was meant to be set after the original film. The story is that Major Domo, Kobayashi's lead henchman, has escaped from prison in order to complete their evil plan to infect all of the dogs of Megasaki City with dog flu and build a mega robot dog to take their place while cats can take over households as the number one pet. The new mayor, Atari Kobayashi, has asked the guests to help him and his team go back to Trash Island to stop Major Domo and his army of cats! The exterior of the queue takes guests through what is meant to be part of Megasaki city and then they move their way into the Mayor's Palace where they begin to see various scenes that set up the story for them. 
For this project, I actually took an existing ride track (Buzz Lightyear's Space Ranger Spin) and overlayed another storyline that could work within the same space and the same amount of ride time. Iron Giant is one of my favorite animated movies, so I broke down the key story beats and figured out how long each scene along the ride would need before the vehicles moved forward to the next beat. I've included the complete story beat list along with estimated times for each one and then some of the beats in more specific detail. 
This was a project based on a story concept about a mythical bird. I created my own storyline for a water ride (similar to Disney's Jungle Cruise) that is focused on discovering the Adarna bird. I placed my story in the future on a 'destination planet' for tourists, so my ride vehicle and cast costume concepts are meant to be futuristic. Along the ride, guests would be able to see the various flora and fauna of the planet 'P-713', and then would discover the secret habitat of the Adarna where there would be evidence of others before them who had discovered this mystical creature only to meet their demise, but not before warning future travelers!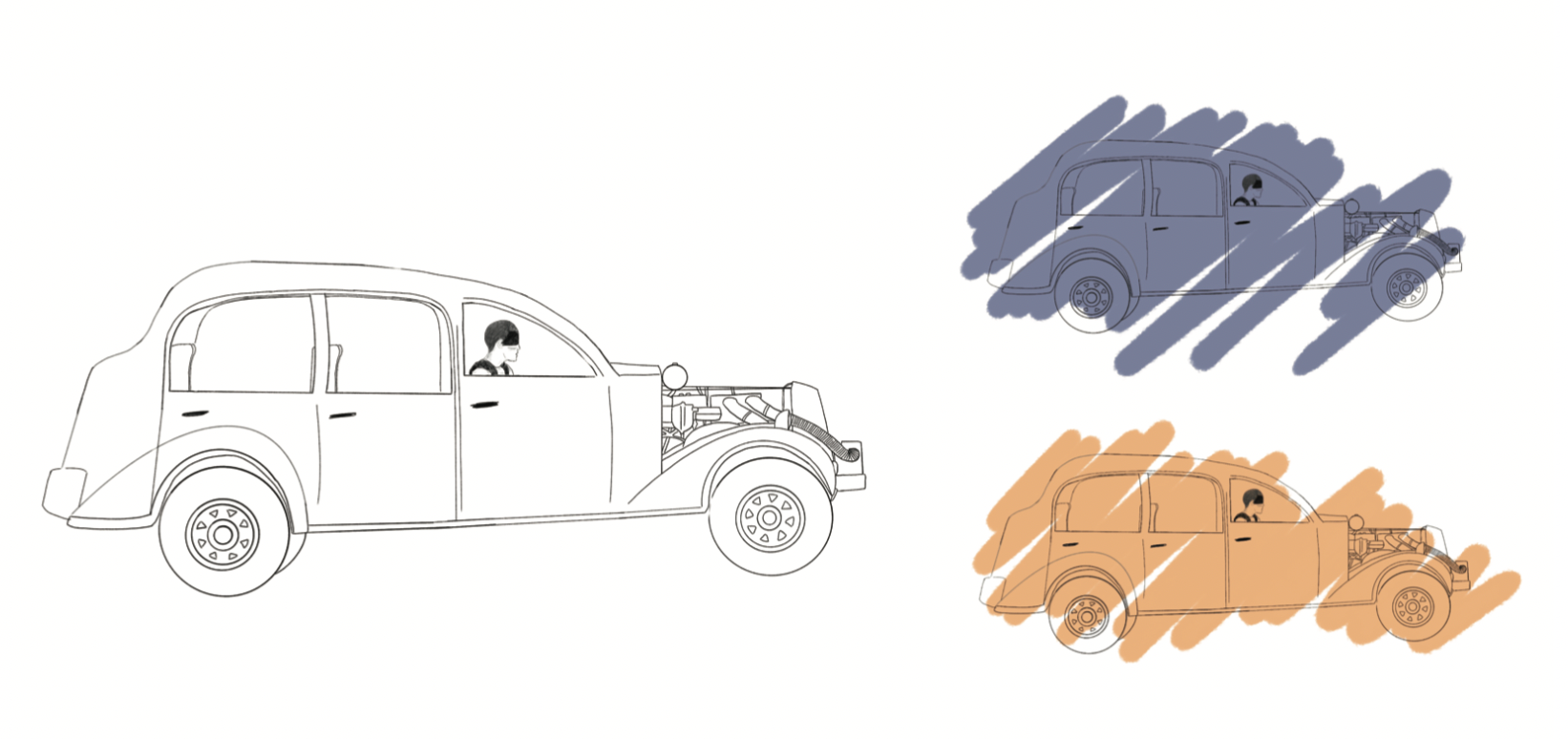 This was actually my very first ride concept that I designed. I wanted to create a post-apocalyptic ride that paid tribute to the classic movie franchise, but with more female representation, hence the storyline being a prequel story for Imperator Furiosa. The ride experience consists of a high-speed car chase through the desert and so guests would actually enter into different motion-simulator ride vehicles that would move into a 360 degree domed screen room for the entirety of the ride before exiting out into an unloading room (adjacent to the gift shop of course). I designed a master layout, ride vehicles, a storyboard, mood boards, and a gift shop design. 
ARport: An Interactive Experience
This is a concept I designed to be used at airports around the world in order to give people something fun to do while they wait for their flight. In order to gain awareness about the experience, there would be little Easter eggs placed around the airport such as incomplete images that people would need to scan a QR code for in order to see the rest of it and then would be directed to a page for the experience. It would be entirely web-based allowing the user to not have to download an app. The experience would include various AR icons placed around the airport that users could pick up and then they would learn about various things such as the city they are in and the history of that specific airport. Users can also hold up their phone cameras to see how areas of the airport that were renovated once looked in the past. Another fun feature would include being able to collect little seagulls that would earn them points.
The Great Savannah Races: Museum Redesign
This was a redesign concept that I did for an exhibit located in the Savannah History Museum. There is currently a nearly non-existent area that is dedicated to displaying photos and information on The Great Savannah Races, so I wanted to expand this area into a more interactive experience for the guests. I decided to use an adjacent area of the museum that has outdated material and information that is going to be updated anyways (see included photo). My redesign would include an interactive touch wall that would display various types of information for the user when they pressed on certain areas. The space would also be lined with large 2D replicas of Savannah houses that one would see along the race course that used to begin at Victory Drive and weave through the streets of Savannah. Along another wall would be a Mold-A-Rama machine where guests can injection-mold their very own race car souvenir. The third wall would have a screen and the back half of an old race car where guests could sit and participate in the race themselves and where they could have their photo taken for a souvenir postcard that could be picked up in the gift shop. 
This was a haunted house concept that I worked on for UCSD's third annual Haunt Comp in the spring of 2022 with my very talented colleagues Ray Zupp, Jen Wagner, and Chris Thompson. We actually won first place overall and then first place in the writing and visual development categories as well. I came up with the name of the experience while Jen created the awesome logo seen above. Along with helping with some of the story development, I was in charge of modeling the experience, which we had to use a given pre-determined space for, but we were allowed to place the entrance and exit where we wanted and design the overall walkthrough layout.