An Exercise in Interactive Functionality
'Lux' was created with the intention of building something that could be both a children's toy and a functio
nal solar
 flashlight/USB charger. The concept was inspired by my love of camping and the outdoors, and I wanted to  create something that kids can take into nature that is both inspirational and utilitarian.
This was my most ambitious 3D printing project at the time, so there were certainly challenges. I had to factor in a very long print time (about 50 hours total) as well as post-processing considerations before I could move on to painting and assembly.
In addition to the 3D modeling and printing, the production required the assembly of not only the 3D printed parts but the circuitry inside of the doll. I had to make sure my measurements were exact in my model in order to allow the necessary components to fit.
Programs used: Autodesk Maya, Rhino 3D
Purgatory: A Paper Exploration
This was a project I made for a 3D design course during my undergrad. I used cardstock, charcoal, red ink, string, and a very sharp Xacto knife. The piece was meant to be a generic representation of the cyclicality of abuse, vice, self-doubt, or any negative phenomena whereby superficial escape ultimately returns the individual back to where they started. The piece was chosen to be in an art exhibition as shown here. 
This was a really fun prop assignment in one of my SCAD courses where we created a spaceship out of whatever materials we wanted to use in order to convey our idea. I came up with an initial shape for the ship by carving PVC foam. I then 'kit bashed' a store-bought airplane model for some of the textures and ship details. I also created resin casts for the gold accents and added other odds and ends to the final design. I then went through the final process of painting and detailing the grime of the ship exterior. 
Programs used: Photoshop
Bamboo Room Tiki Bar Halloween Decorating
This was a project given to me at my part-time bartending job this past Halloween. I had a lot of fun with this as I enjoy haunted houses and all things spooky! Decorations included a blood fountain where I simply dyed the water in our normal fountain and then added red LED lights for added effect, piles of bones and spiderwebs with creepy crawly insects stuck to them, a witch doctor room with a bone curtain and hanging herbs, and my personal favorite, a skeleton prop that I made inspired by the classic Indiana Jones film 'Temple of Doom'.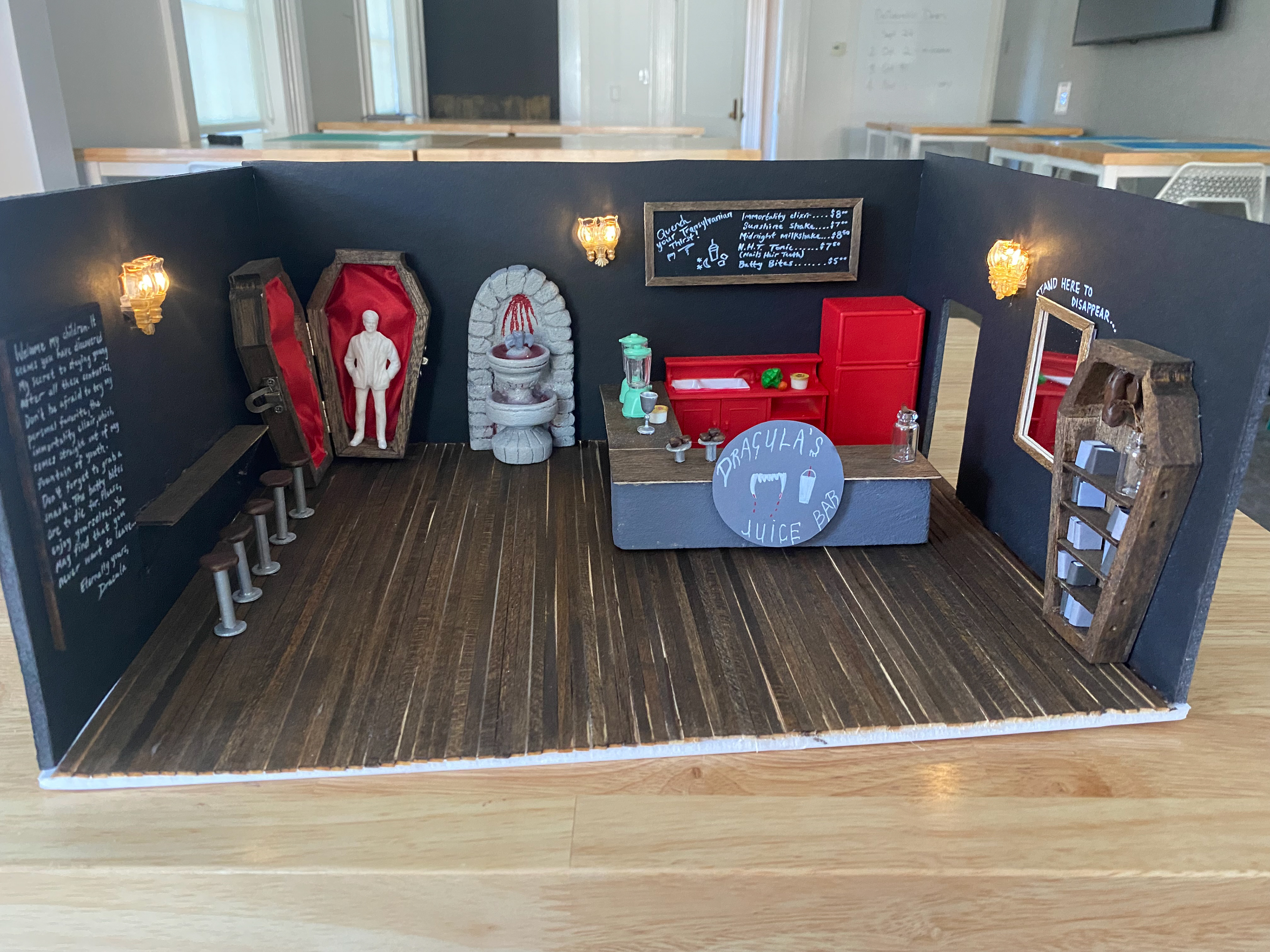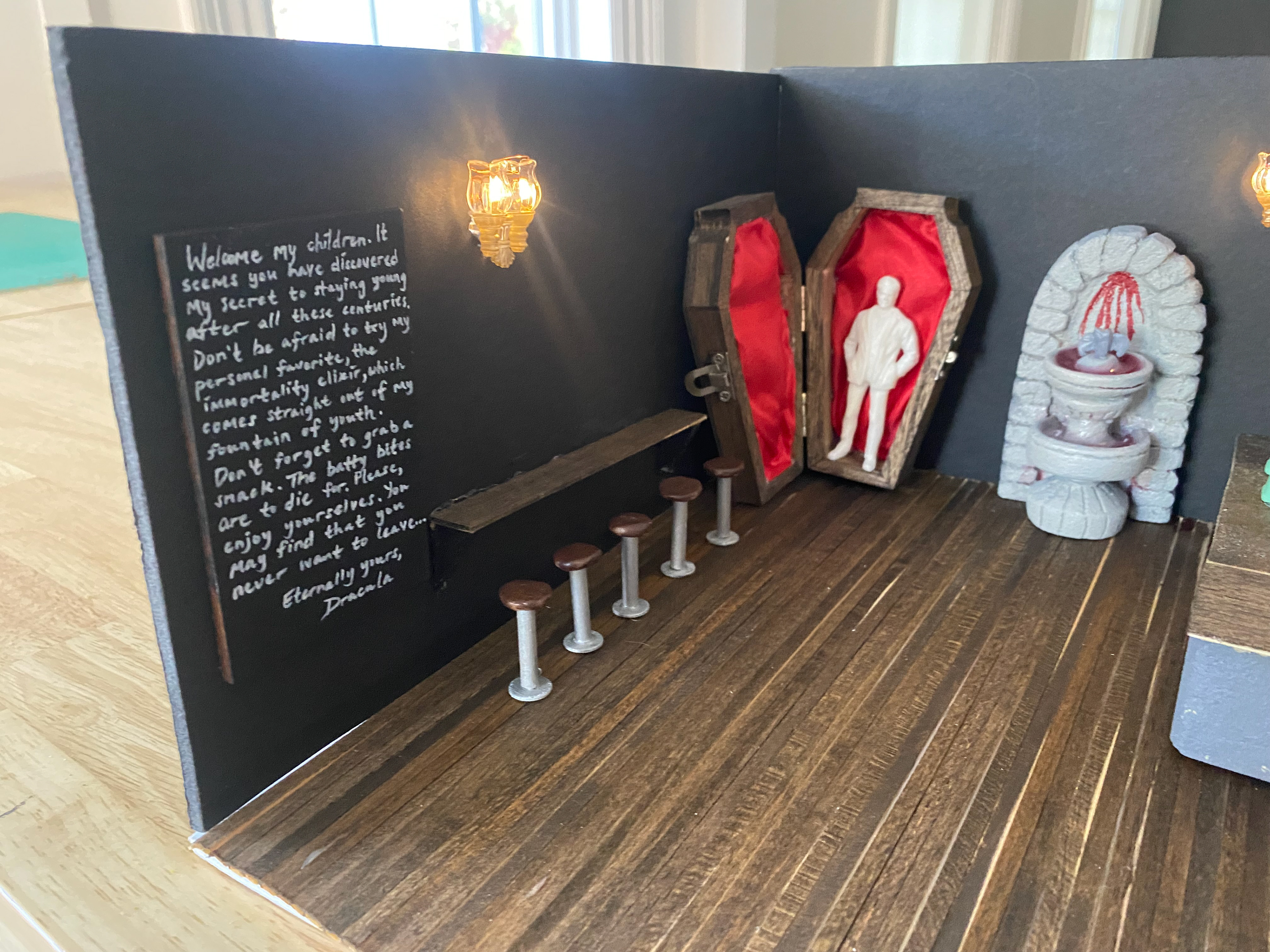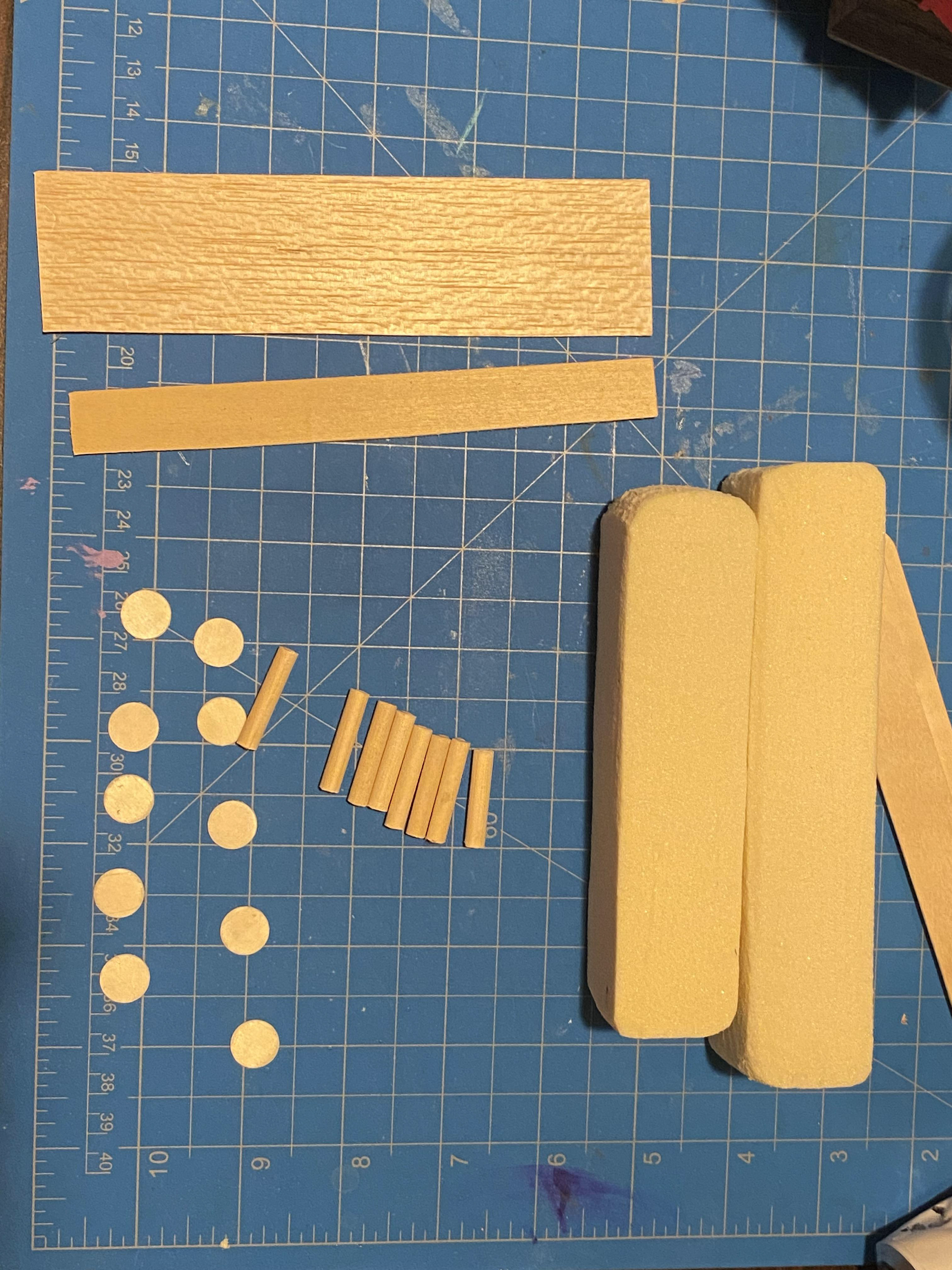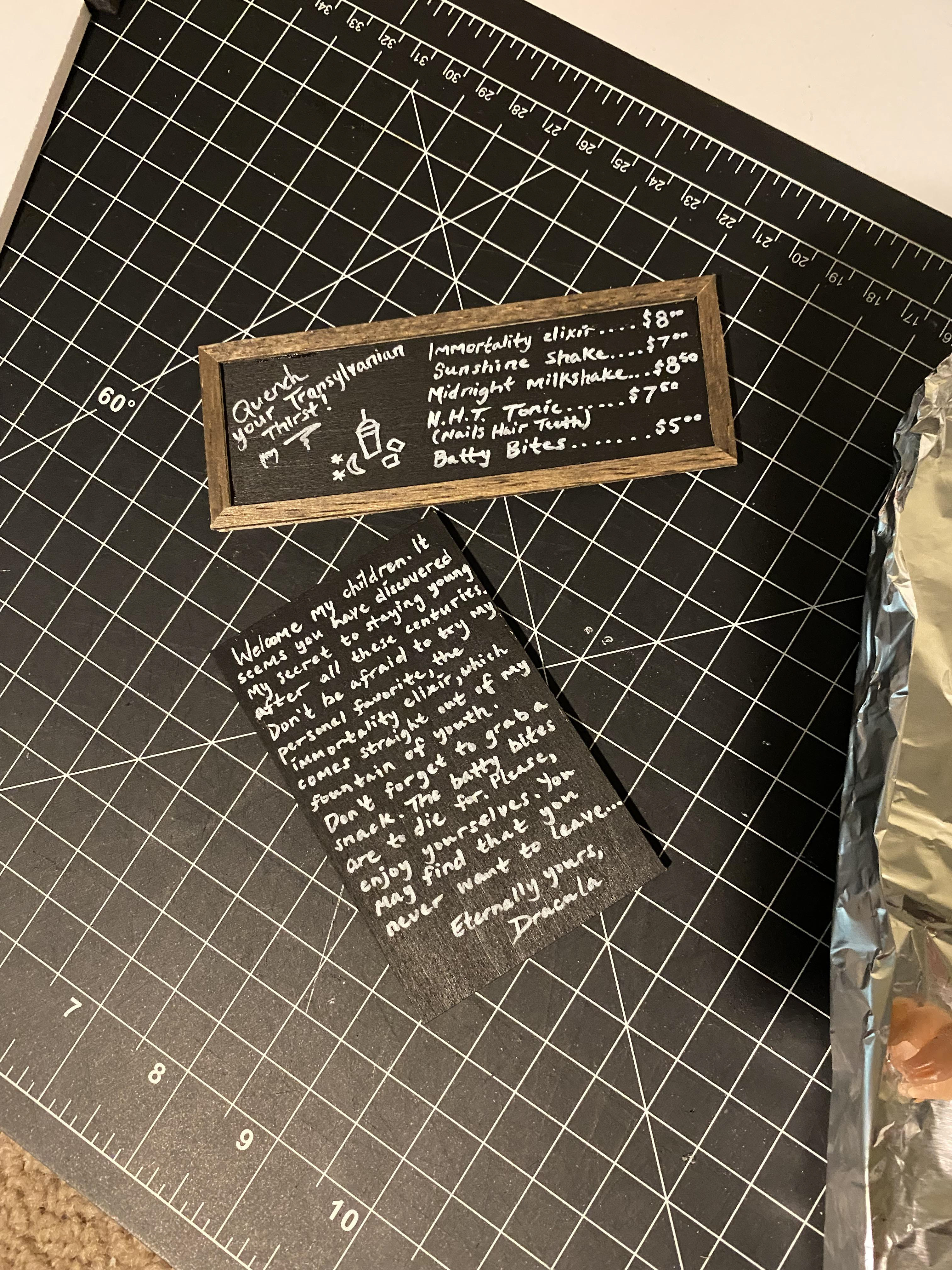 This was a really silly concept idea I had to design a juice bar that was themed for the classic horror icon, Dracula. The experience elements included a coffin that people could step into for photo opportunities, a fountain that had one of the drinks come out of (naturally a blood red colored drink), and a mirror that actually prevented people from being able to see themselves, just like vampires. I used a number of materials for the model (1/2'' scale), including foam core, balsa wood, polyurethane foam, resin, and Sculpey. 
Escape From Trash Island Concept Queue Model
I built a scale model of a portion of my ride concept
'Escape From Trash Island'
 (see Themed Entertainment page) based on Wes Anderson's 'Isle of Dogs'. The model shows the front entrance walkthrough to the ride where there would be traditional Japanese houses and little shops and kiosks for guests to walk by and interact with as part of the story. I designed the structures in Adobe Illustrator and had the pieces laser cut using 1/8'' birch plywood and 1/16'' cardboard for the roofs. I carved out a foam base for the walkway and carved a traditional torii archway for the front entrance using PU foam. I designed little posters and flyers to tack onto the sides of the buildings and used Sculpey clay to make other small prop pieces. To light up the buildings, I used electronic candles and stencil paper attached to the inside of the windows.